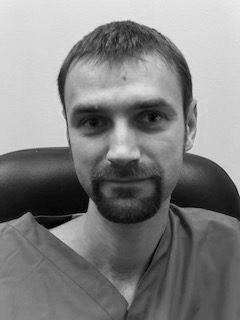 Dr. Alec was born in Bobruisk, Belarus. He attended Bobruisk Medical College and served in the Belarusian Military Forces. After his graduation in 1998, he was admitted to the Faculty of Dentistry at the Belarusian State Medical University, where he graduated in 2003. He went on to complete a 1-year residency in Lida's District Dental Clinic and continued to work there as a general dentist. In 2007, he graduated from the Belarusian Medical Academy of Secondary Education as a Doctor of Dental Surgery and began to work as a dental surgeon in the District Hospital alongside his clinical work.
Dr. Alec immigrated to Canada in 2009. He worked as a dental assistant before obtaining his Permit for General Practice from the National Dental Examining Board of Canada in 2016. He has practised at Spearmint Dental since then.
In addition to practicing at Spearmint Dental, Dr. Alec is also a clinical instructor at the Braden Centre for Skilled and Internationally Trained Professionals and a member of the Canadian and Belarusian Dental Associations. He has a particular interest in restorative dentistry, crowns and bridges, dentures, root canal therapy, and dental surgery. He's fluent in English and Russian.
Dr. Alec is married to his wife, Olga, and they have one daughter, Margarita. He enjoys spending time with his family, mountain biking, fishing, gardening and making beer and bread.