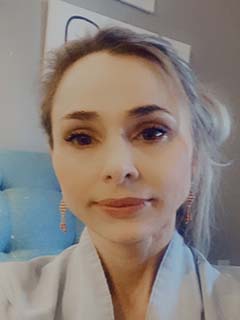 Dr. Van Horne graduated from UBC with honour and the Canadian dental Association president's award for outstanding patient care. She went on to do a year of advanced dentistry as a resident at the Vancouver General Hospital and Saint Paul's Hospital working on medically compromised patients and learning how to do IV sedation.
She has also volunteered in rural villages in Guatemala, India and the North of Ireland. She spent the last 15 years providing loving care to all her patients in rural Alberta; providing a vast array of treatments from IV sedation, wisdom teeth removal, implants, botox, to endodontics and orthodontics . Since graduating dental school Dr.Van Horne has always put patient care with compassion and patient education as a priority. Now that she is here in Edmonton Dr.Van Horne looks forward to providing comprehensive treatment to her patients with the small town personalized care that created a loyal following of patients over that last 15 years.
Dr. Van Horne is happily married with one son, she loves the outdoors, travel and volunteering.